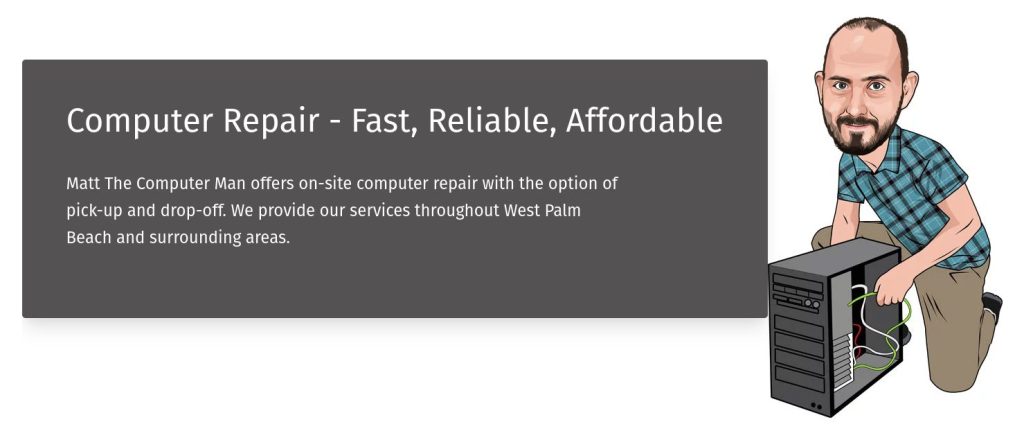 Matt The Computer Man offers the most competitive Palm Beach Gardens computer repair prices.

If you're looking to repair your desktop or laptop or have a quick question. Please call us or use the contact form and will respond as soon as possible.
You can also try our Remote computer repair, We connect to your screen, making your computer repaired even easier. Get connected to our store in under five minutes.

Our team of specialists will be glad to solve even easy questions over the phone. Schedule an appointment for those advanced computer repair issues.
Computer Repair in Palm Beach Gardens has never been easier for you to get that computer up and running!
Common Computer Repairs in Palm Be Gardens
Virus Removal
Computer Networking
Computer Printer Setups
Quick Books Networking
Operating System Installs
Data Recovery
Palm Beach Gardens Apple Store
We use only the best computer specialists for all your laptop and desktop repairs. If you're looking to get the best customer service, you're still in the right place.
With 5 Star ratings from all our clients, you can't go wrong.


Our certified PC Specialists have trained in Mac repair. We are one of the few Apple store repair centers in Palm Beach Gardens.
Among the many services our company offers is the free diagnostic, which our clients rave about. Bring your computer into our apple store so we can help answer why!


The most knowledgeable PC specialist of all South Florida is with our team! Get your computer service and repair with the pros.
Got an Apple product in question that you don't know is repairable give us a call anytime!